Product Life and Longevity
Better designs, built better
Hapman equipment is built to last, with outstanding engineering, fabrication, and materials of construction. We draw on decades of proven engineering and field performance to ensure your Hapman product will stand up to your application.
98.9% success rate; only 1.1% warranty claims since 2014
Hapman equipment is still operating in the field after 35 years
Built for Serviceability
Ease of maintenance
Our equipment is designed for fast, easy disassembly for cleaning and maintenance. You know what a difference that can make in your uptime.
Accurate, Complete Documentation
Regularly updated information
Hapman units come with the information you need to run it right, including complete manuals and regular updates and service bulletins.
Customized manuals with all Hapman equipment, including detailed drawings
Hundreds of manual revisions/updates are distributed every year
Detailed reports for every service visit
Fast access to parts
24/7 support to get you back in action fast
We're standing by to get you the parts or service you need quickly, via toll-free phone or internet.
Staffed 24 hours a day, seven days a week, 365 days per year
Program in place to expedite parts orders
$1.5 million worth of parts ready for immediate shipment
Staff expertise
Broad industry expertise and a deep knowledge base
Rely on Hapman for experience in all major bulk processing industries. We retain experienced engineers who publish regularly and professionally support our industry.
Experience with over 2,700 distinct materials
12,000+ applications for 80+ international companies in 56 countries
Over 7,300 Material Test Results on file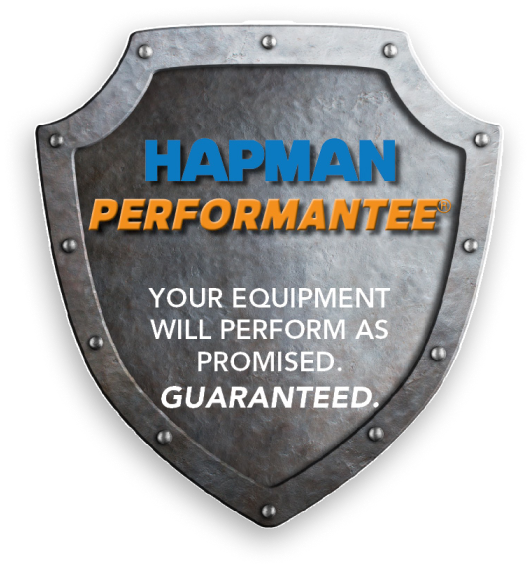 Performantee®
The Original Performance Guarantee
Our Performantee is a 100% operational guarantee that pledges you will be fully satisfied with the performance results of our bulk material handling equipment, and that it will achieve the specific results for which it was designed and manufactured.
We will revise, repair, or make whatever changes are necessary to deliver the results you specified and we promised.
24/7 direct access line to our technical team.
Lifetime promise