We Engineer Heavy-duty Performance Into Every Product We Manufacture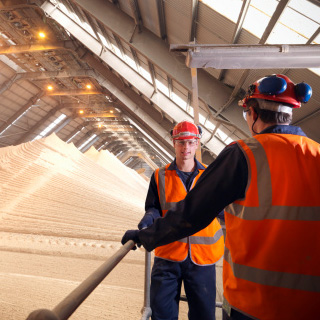 Efficiency and equipment durability is key to improving your material handling processes for powdered or pulverized minerals and ores. Many companies in your industry find that the demanding characteristics of minerals really do not fit the design parameters of their conveying equipment. At Hapman we engineer heavy-duty into every product we make and work closely with you to achieve the performance results you want – guaranteed.
We offer a variety of conveyor choices that move your bulk powders and solids in directions others cannot perform. A choice of tough finishes, heavy-duty augers, and long-lasting conveyor material options ensure equipment durability that minimizes downtime. Computerized controls regulate transfer speeds and discharge rates so there are fewer work stoppages to clear clogs. We'll show you how to convey material at greater distances without degradation or segregation if that's important to your process. Our completely sealed systems minimize dusting, and prevent product spillage and contamination problems, too.
Click here to access free technical resources for your industry.
We make several of our models portable so one conveyor does the work of two or three. Small footprints, installation flexibility, and custom configurations eliminate the need to force fit our equipment into your process and let you maximize your production space. Dust collectors eliminate the expense of auxiliary fans and filters. And all Hapman products minimize cleaning and maintenance time.
Hapman's more than 10,000 global installations have solved some of material handling's biggest challenges:
And those solutions have helped to create a full line of material handling and conveyor equipment that you can use individually or as a system:
To improve your mineral handling performance, contact us today. We're ready to help you achieve measurable results.